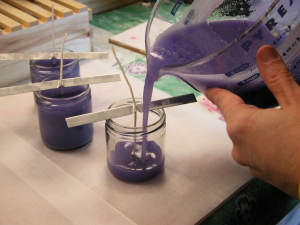 We use only 100% natural American farmer produced soy wax and coreless wicks to give you a clean burning, environmentally friendly candle. We test burn our wicks to ensure that they burn completely and that they produce little or no soot leaving your jars and home free of black soot residue. Since soy wax is water soluble, jars and votive holders can be conveniently washed out and reused.
What are the benefits of soy wax?
Derived from a vegetable (soy beans)
Natural, renewable resource
Biodegradable
Lower melting point so your candle will burn slower and longer
Burns with zero petro soot
That's not all – check out our line of amazing fragrances! Our long-burning soy wax candles are fragranced with oils that meet our high quality standards. We test burn every scent. If we don't feel it's the best, we simply won't use it.